This summer has flow in and it's been a productive one for me but not so much when it comes to my writing here; but that is going to change.
I have lots of things which I am looking forward to sharing and writing about esp after I took a week off from almost everything and didn't even sit here at my desk at all.
So to that bit of news;  today I signed contracts with Cork University Press for my small contribution to The Abortion Papers Ireland: Volume 2, which is being Published by Attic Press.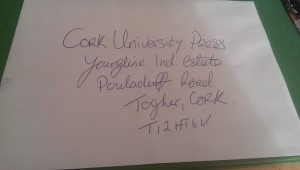 This makes me so joyfully happy, Attic Press has a wonderful list of gender studies, women's studies and Irish feminist texts. Attic Press published The Abortion Papers Ireland edited by Ailbhe Smyth back in 1992, Volume 2 has been edited by Aideen Quilty, Sinéad Kennedy and Catherine Conlon making it a joint collaboration between University College Dublin, Maynooth University , Trinity College Dublin.
The Abortion Papers Ireland Volume 2 will be published this comming October.