Ireland's Age of Consent does need to be reviewed along with the standardization of sexual health and sexuality education in our secondary schools.
Ireland's
#AgeOfConsent
is out of step with other EU countries.
ageofconsent.net .
We do have somethings right, that there is no difference in the
#AgeOfConsent
for homosexual and hetrosexual sex.
17 is too old as an
#AgeOfConsent
, in my opinion, it should be 16. We how ever should have age bands, as some countries do, a close in age exemption, which are often refereed to as a Romeo and Juliet clause.
Ireland does not have one.
Maturity is many faceted, and young people mature physically, mentally and emotionally at different rates. Which is why it is an impossible bench mark to set, but in setting
#AgeOfConsent
too high we ostracise teenagers.
We put in place barriers, which prevent them from getting the information and services they need to keep themselves safe and make better choices.

Ireland is still dealing with the hangover of the Roman Catholic Church being the moral authority. We have shaken it off in many ways but it still remains in our education and healthcare.
In lowering the
#AgeOfConsent
we are facing the reality that many teens are sexually active at that age and we remove the stigma. However I am in favour of having an age band, so that it would be still illegal for those over 20 to have sex with a 16 year old.
Lowering the
#AgeOfConsent
would not be about giving free reign to pederasts.

I know many people are not comfortable with the idea of their 16 to 20 year old who still lives at home having sex. But they will, and if you ignore it, you make it harder for them to get help when they need it.

Ireland does not have an
#AgeOfConsent
close age exemption.
ageofconsent.net/world/ireland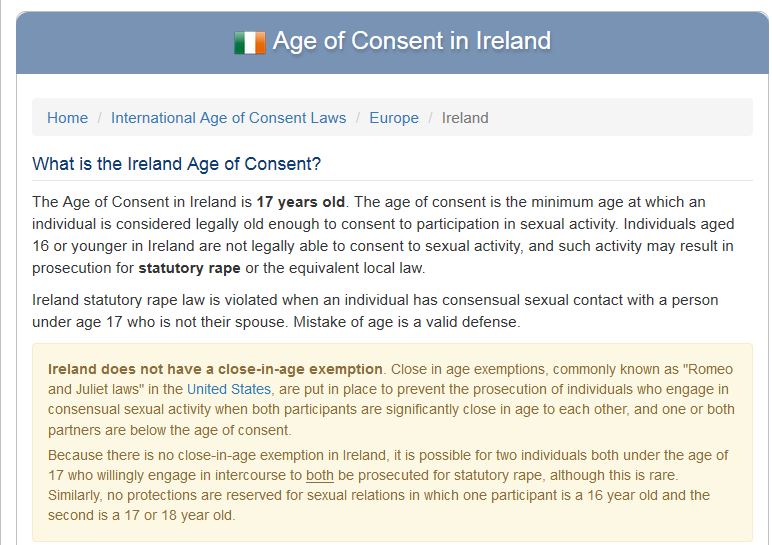 To have a law on our books which means two 16year old can both be done for statutory rape if they have sex is absurd. Which is why our
#AgeOfConsent
needs to be revised and looking at revising the
#AgeOfConsent
is something a Minister for Children should be looking at as well as a proper national age appropriate sexual health education for all children.
When something is criminalised it causes all sorts of stigma and other issues, so young people hide it and so don't access services or get the help they may need.
Resource links:
https://b4udecide.ie/
https://spunout.ie/
https://www.healthpromotion.ie/publication/fullListing?category=Sexual+Health&searchHSE=