I was delighted to see images on my twitter feed of Gloria Steinem posing beside the Repeal Projects jumpers and the AimsIreland T shirts.
https://twitter.com/Harmonica26/status/756831226682568705
AIMS Ireland secretary @sineadredmond with @GloriaSteinem, who knows we need to #repealthe8th! pic.twitter.com/hNTZcZvvJo

— AIMS Ireland (@AIMSIreland) July 22, 2016
But I wasn't one bit surprised. Ms Steinem was one of the Founders and Editors of Ms Magazine and it's debut issue in December 1972 featured 52 women stating "We Had an Abortion"
This action followed on from the French & German Actions of June that year: the French magazine Le Nouvel Observateur Published the Manefestio which was orchestrated by Simone de Beauvoir and was sign by 343 women and the Stern Magazine cover is wonderful and 70 women came out about having had an abortion.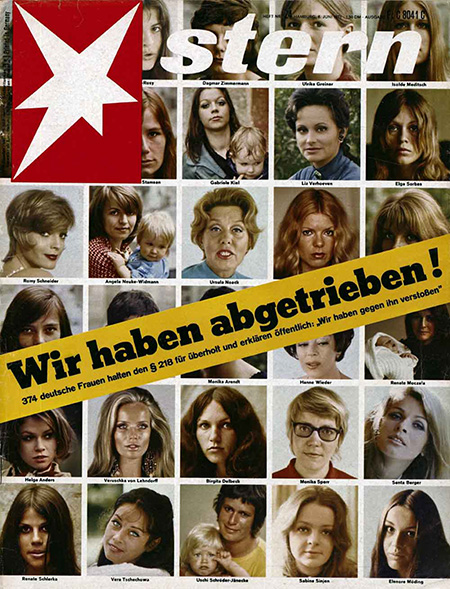 All these actions happened before I was even born, but I knew that if women in Ireland are to have the right to an abortion when we need one, then just like the women in France, Germany and the USA some of us were going to have to go public with our stories. Which is why I chose to start telling my story, which by a quirk of fate was also published in Le Nouvel Observateur
But I was just one person back in 2013 but soon other women started stepping forward, and when I was asked to take part in the X-ile Project it was something I could not refuse.
Women in Ireland have started to come forward to 'come out' (as Panti Bliss recently put it) about their abortions, we have done so follow the footsteps of many other brave women, and Gloria Steniem is one of those women. She has shared her story about having to get an illegal abortion.
So I will be keeping an eye out for Gloria Stenism on the Women's Podcast, I am looking forward to what she has to say about #repealthe8th, I don't doubt she agrees that we need Free Safe Legal and local abortion services in Ireland.
We've a brill advice ep of @ITWomensPodcast coming soon including advice from Gloria Steinem & other #soundwomen pic.twitter.com/JtImyRDXgd

— Roisin Ingle (@roisiningle) July 22, 2016