Twitter is something I use just about every day, I enjoy the engagement, the information streams and the sharing of things which I think are important and need changing. I usually ignore the number of followers, cos frankly if I think about it, I get self conscious. Often blogging and being on twitter for me, is something I do in the 'dance like no one is watching' mindset. Now and then things happen which make me go, woah! one of those things was happened last night and this was it.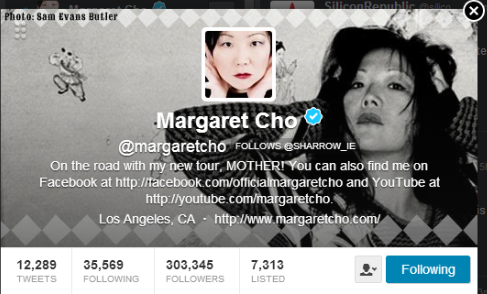 But I don't know if many people here in Ireland are aware of Margaret Cho, her work, her comedy, music, writing and activism. For me she is a like minded soul and someone who has made me feel less alone in the world. On the surface it would appear we have very little in common, she is after all Korean American but it was her bawdy sense of humor as a comedian, brought her to my notice, and the shared narrative of being a fat, feminist, sex positive, queer outspoken woman has me me revere her. She is the first person I think of when people (usually guys) say women aren't funny or good as comedians.
Her comedy breaks down barriers, it is kick ass, sex positive, feminist, taboo breaking, queer, irreverent. Every tour is about what is going on in her life, as she strives to be who she is, not who the world, or her cultures or media says she should be. Her last tour in Dublin was 2003 it was the Revolution tour. Her current tour is Mother but there doesn't seem to be plans for her to come and play here unfortunately.
There are feminist comedians which I think are wonderful like Joan Rivers and Lily Tomlin but I would not consider them to be of a same generation as me but Margaret Cho is. She also grew up in a Gay bookshop in San Francisco so the fact she is openly bisexual (and will make the point of saying so esp due to the fact she has a husband) and is a LGBT activist/advocate is not surprising.
There is a wonderful series of short interviews with here here:
http://on.aol.com/video/margaret-cho–sexism-still-exists-518011313
I know she is not everyone's cup of tea, there are people who don't understand why she would do a burlesque act tour or that would not be comfortable about how explicitly she talks about certain topics, but there is no way for me not to adore her, esp as she wrote my favorite song about oral sex called "Eat me out" which she preforms unabashedly.

http://margaretcho.com/
https://twitter.com/margaretcho
http://en.wikiquote.org/wiki/Margaret_Cho