Féile Draíochta 2014 was awesome and even more so that my brats were there and helping out as minions and raffle ticket sellers. It was awesome to have them hanging out with other kids of pagan parents and for them to see that there is a community of people who are pagan, that while they are personally agnostic I think its important they seem community other then that of the local parish as their only model of community. They saw people all all ages, and several babes. Everyone who they encountered had time for them and didn't speak down to them.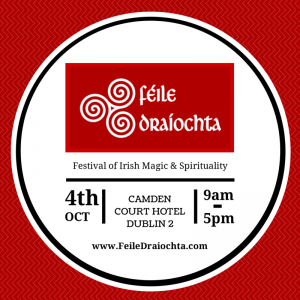 I would very much recommend coming along to this, if you get the chance it's always the first weekend in October.
I got my face painted, which is one of my own traditions and  the Dice Lady was lovely to deal with.