Last Saturday the 2nd of March as part of the 10 days of Action which is part of the
Abortion Rights Campaign I was doing my bit by taking to the streets to help run a stall and hand out leaflets.
Basic street politics, and I must admit it has been a while from when I last did that sort of activity, I've had a busy few months taking part in meetings,photo ops, rallies and marches but I hadn't stood handing leaflets.
Specifically these leaflets for the Action on X rally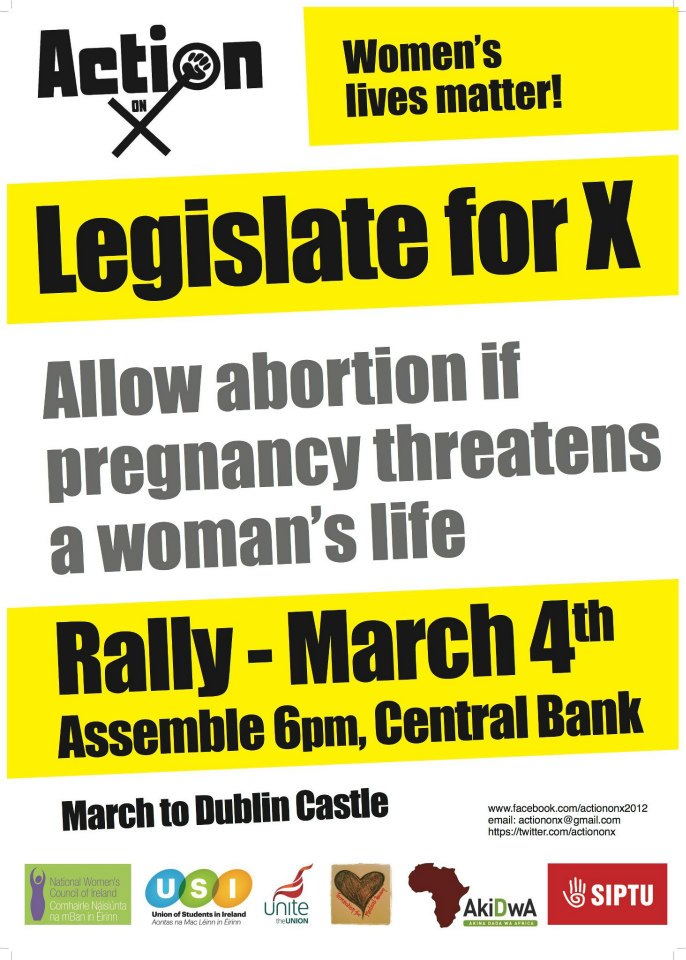 So I was a little apprehensive about doing thing and what reaction I may get and then I watched Amanda Palmer's Ted talk. In which she talks about connecting with people and part of the talk was about her 5 years of being a living statue and connecting with strangers on the streets and how it was about eye contact.
You can watch it here if your interested. http://www.ted.com/talks/amanda_palmer_the_art_of_asking.html
So get out to hand out leaflets and make connections with people, I've found it easier to be upbeat when you have some theme music for the day, mine was baby elephant walk which always makes me smile, so with a song in my heart and a smile on my face I was ready to reach out to people.
I stood at the underpass of the Central Bank as people passed through heading to Dame St or Temple bar, it was a busy enough afternoon. I held up my stack of leaflets in one hand so people could read them as they pass and offered one for them to take with the other. Some people didn't take one but read what I was holding in passing.
I had one group of American tourists tell me I was going to hell, but 7 other American tourists over the two hours I was there told me to keep up the good work. I had some parents steer their children away from me and some quietly take a leaflet form when where they kids had passed me by.
We all have our preconceptions about who is interested in abortion rights, but I had has many young men take leaflets as young women and they were more inclined to stop and talk.
I had one old man admonish me for handing out the leaflet stopping to block me from people passing by and tapping my hand down which was handing out leaflets, while saying "You do know abortion is murder, dear" I told him I disagreed and went to hand out leaflets again and again he tapped my hand down, like I was a naughty child saying " But dear women who have abortions are murderers" I told him that if he touched me again I would consider it assault and that calling me a murderer was slander. He walked on telling me I was going to hell.
I had several older women talk leaflet and stop to talk to me. One asked me quite bluntly "is this about Abortion" not being sure how the exchange would go I explained the rally is to get X Case legislation in place, as it has been over 20 years and we still don't have legislation. "Good" She replied and asked were we working for more rights as those who have been raped should have the right to an abortion, I was happy to tell her that yes the Abortion Rights Campaign is working towards securing that right for those who need it.
I had another older woman take the leaflet, stand reading it and say " Tomorrow is it?" I replied yes "Great, I don't do the internet thing, but I will let my girls know, can I have some more of those?" So I handed her 5 more leaflets.
Over all I had mostly positive encounters with people smiling, giving me a thumbs up or waving a leaflet they had gotten from one of the volunteers, so the next time I take to the pavements it will be with a lot less trepidation as I did feel that the majority of people I encountered were pro choice bearing out the recent polls.