Today is Blog for Choice day, and people all over the world will be writing blogs to as the site puts it "gets more people reading and talking about reproductive rights" I know that is what this entire wordpress site of late has been about.
So really it's not surprising that I got involved last year with the new level of activism about abortion in Ireland. It's been online engagement, writing, meetings, plans, demos and marches. I was at the meeting which saw the naming of the new Abortion Rights Campaign. I have been a small part of the process of making that happen and will be involved.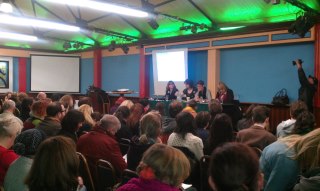 I was there with about 150 other people all of whom are pro choice and listened to the speakers and contributors. We heard about how the Aviva stadium holds 50,000 people and 3 times that number of women have traveled to the UK for abortions. We heard about that for everyone of us who have stood outside the Dáil protesting there are 1,000s of silent women and some thing inside me snapped.
Before abortion was legalised in France and Germany 100s of women came out together and said "I had an abortion."
I think we need Irish women to do that, but I would never ask someone to do something that I would not myself.
So I addressed the meeting and asked to speak as a woman who has had an abortion. Stated that I was happy the campaign was to use the word abortion and that we need to break the taboo, end the stigma and we need women to be able to say I had an abortion, and so I addressed them all and said "My name is [Sharrow] and I had an abortion and I only regret that I had to travel". The response was nearly over whelming, but I kept it together and didn't start sobbing. I quietly tweeted what I had done as I had been live tweeting that part of the day.
I had so many people say to me that day in person that I was very brave to do that.
Why should standing and saying I had an abortion in a room full of people who are pro choice, who are there to fight for abortion rights be brave?
It shouldn't be.
I had people respond to me on twitter and by text message saying the same, all being supportive but time and again saying I was brave but I don't think it was about being brave, it was and is about being fed up of being talked about as a statistic.
I am 1 of the 150,000 women who traveled to have an abortion.Each of us is a person with hopes, dreams and rights. I hope that more Irish women will be able to step forward and say 'I had an abortion'.