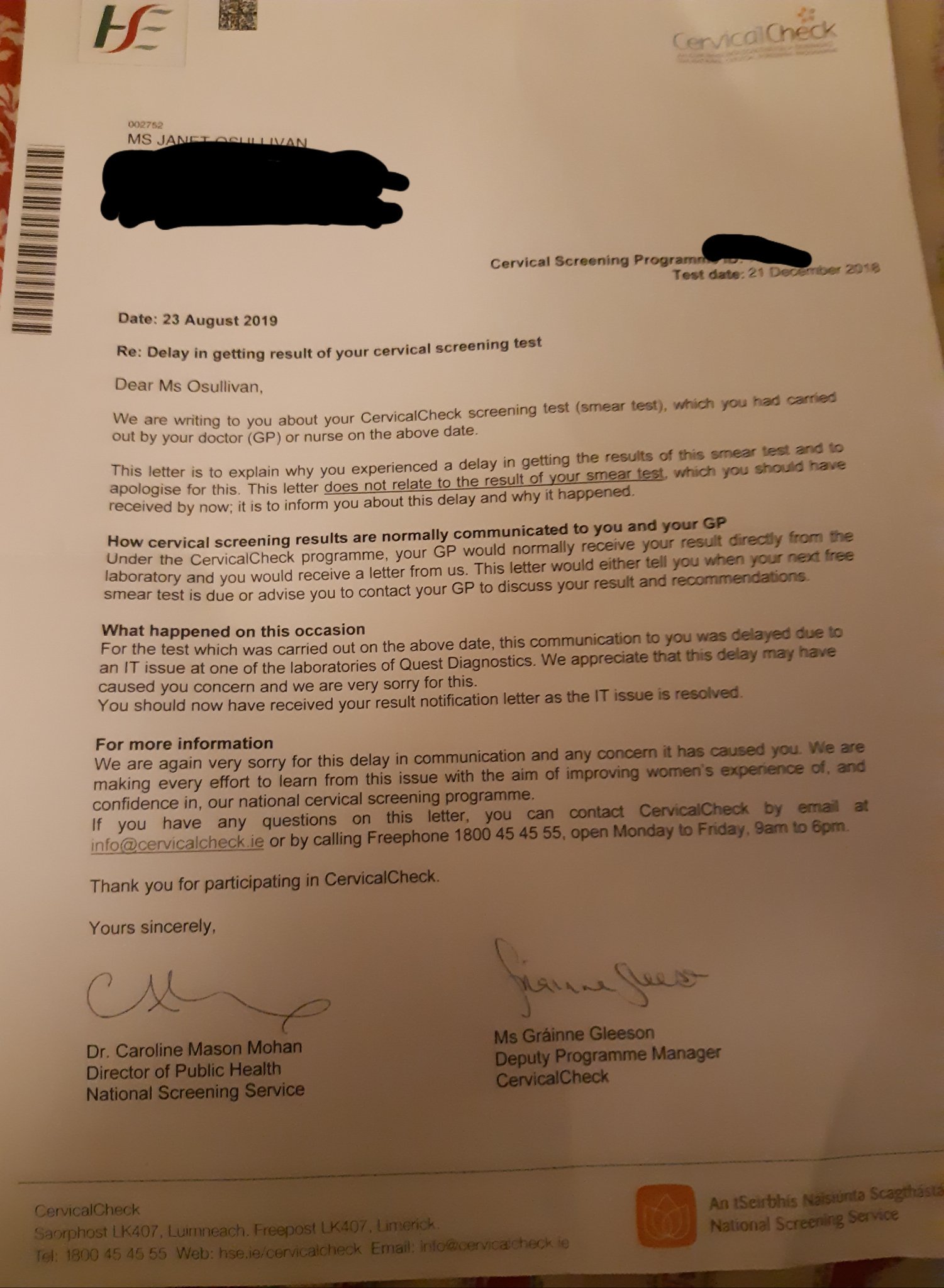 This arrived yesterday.
I had a smear test which I was told I needed to, in the wake of the cervicalcheck scandal. I had been told to get one in the run up to the Repeal referendum last May, but delayed it for practical reasons, and the because I was scared.
It was December before I screwed up my courage and got it done. I needed it done as the all clear I had gotten after an abnormal smear may have been a false result and I could have had cells become cancerous and spread over the intervening 3 years from the first abnormal test.
Which meant the more time passed I was possible moving passed the window were non surgical treatments were an option. There is a history of several cancers in my family including this one.
The date on the letter shows when I had the test done, the 21st of December 2018 and the date I rang my GP and the Practice nurse told me the results was the 9th of August 2019, over 7 months. I was given the all clear, but I still have my concerns, my trust has been eroded.
I had my first smear at 19, I advocated and educated about them for years, in person and online. I welcomed the Cervical Check service when it was rolled out, but it left me in frankly mental and emotional anguish for over 7 months.
Over 7 months of trying not to think about it, over 7 months of worry and heartache and what if. Over 7 months of Schrodinger cancer inside me.  Over 7 months of desperately trying not to disassociate when I thought about it or when it was mentioned in the news.
Over 7 months of fretting I would have to have surgery and what impact it would have on me in my life. Over 7 months of worrying, my name may be added to the list of women who have and who are dying due to the lack of oversight in running what is a much needed service for anyone with a womb.
I am still working through all of this, I am relived but so damn fucking angry. So no, Apology Not Accepted.